Ansgar Herzsprung

Medical student who fled from Rosenheim because his reactionary, bigoted father and his garrulous, sentimantal mother wanted to turn him into a literary genius.

Ansgar only appears to be a cynic. When he meets Evelyn, he too is capable of love. He dies at the age of 22.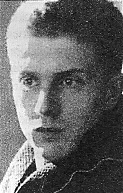 Born in Munich in 1964. Drama school: Otto-Falckenberg-Schule. Theater appearances at Theater der Jugend in Munich, Stadttheater in Essen, Stadttheater in Nuremberg. Member of the company at the Kammerspiele in Munich since 1989. Author of many theater plays. First film experience: "DIE ZWEITE HEIMAT". Plans: "To combine writing with acting".

Production of "Private-Life-Show" developed in collaboration with Mario Anderson.



---
The DZH website is a joint effort by ReindeR Rustema, Alan Andres and many others. Back to the main page.