Clarissa Lichtblau
Grew up in a small Bavarian town as the illegitimate child of a refugee from Pomerania. Dr. K., the director of the local county hospital, discovers her talent for the cello.

Her mother's ambition and her patron's hopes turn her into a musician who lives in fear of the competetion. She becomes Hermanns freat but unfulfilled love. Clarissa's fate as an artist mirrors the drama of being a woman.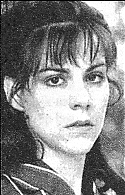 Salome Kammer has her own website at http://www.salomekammer.de

Born January 17, 1959 in Nidda, Upper Hessen; clergyman's daughter. Schooling in Frankfort. Member of a children's choir and theater group. Taught herself acting by working with independent theater groups. Studied at the Musikhochschule in Essen (violincello). Graduated with
"Künstlerische Reifeprüfung" as cello teacher from the Musikhochschule in Mannheim.

1983 - 88: Theater der Stadt Heidelberg; after that, engagements at the Bayerische Staatsschauspiel and at the Volkstheater in Munich.

Plans: Plays and compositions requiring a combination of drama and music.


---
The DZH website is a joint effort by ReindeR Rustema, Alan Andres and many others. Back to the main page.