Helga Aufschrey

Daughter of a teacher from Dülmen, Westphalia. Poet, student of literature. Always in love with someone - including Hermann. Helga is a radical character: art, which has a central meaning in her life during the first few years, is later replaced by politics. She is never satisfied with the attainable. As a member of a student opposition group she goes a step too far and turns to terrorism.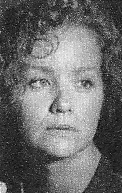 Born January 15,1957 in Basel; schooling in Basel. Drama School: Schauspielakademie in Zurich; at the same time, she worked in a circus. Various television productions. Primarily theater work in Zurich, Basel, Wuppertal, Tübingen, Bonn and Kiel .



---
The DZH website is a joint effort by ReindeR Rustema, Alan Andres and many others. Back to the main page.