Marianne Westphal

Wife of the gynecologist Dr. Westphal; she is a former registered nurse from Vienna. Mother of blond win girls. Her husband leaves her and she does not know what she should do with her dreams... The small town gets on her nerves - even Hermann cannot console her for very long.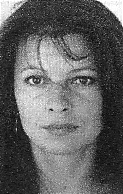 Born and raised in Vienna.

After finishing secondary school, graduates in acting in the Max Reindhardt-Seminar.

First theater appearances in Baden-Baden and Saarbrücken. Two years of training in method acting with Dominic de Fazio. Works at the Jura Seyser-Theater in Vienna, as of 1983 under contract at the municipal theater in Heidelberg. Collaboration with the independent Italian theater group "Teatro Mediterriano".

Various television and film roles, among others: "Dicht hinter der Tür", (directed by Mansur Mandavi) and "Der neue Mieter", (directed by Cesare Lievi); awarded the "Pegaso d'argento" for her role as the "concierge",



---
The DZH website is a joint effort by ReindeR Rustema, Alan Andres and many others. Back to the main page.