Rob Stürmer

Grew up in a forester's house on Lake Ammersee, an enthusiastic photographer since his early youth . Now he is the cameraman in the group of young filmmakers - a visually-minded individual. He is a fanatic believer in his friends' projects, but he is not uncritical.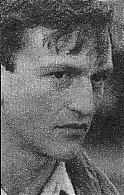 Born in Munich on November 27, 1962 as the son of a forester.
Grew up in Benediktbeuern, Upper Bavaria. Studies acting at the Mozarteum in Salzburg. Instrument: the violin. Acts in Salzburger Festspiele, at the Schauspielhaus in Frankfort and the Münchner Volkstheater.
Receives the annual award for young artists from the Bavarian state government in 1990.

---
The DZH website is a joint effort by ReindeR Rustema, Alan Andres and many others. Back to the main page.