Waltraud Schneider alias Schnüsschen
A girl from the Hunsrück area who knows what she wants. As a tour guide in Munich, she learns about life in the big city faster than all the others. She reveals her provincial background to no one. During the decisive years of the story, she is Hermann's wife and Lulu's mother. As an older student, she takes part in the 1968 student revolts and tries to be as liberated as she can.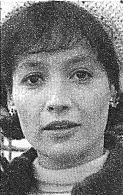 Born January 30, 1959 in Frankfort. Schooling in Langen, Hessen. Educated at the Staatliche Hochschule für Musik und Theater in Hannover. At the same time, she studied Graphic Design and gained experience in a rural commune in the Vogelsberg region. 1983-87: engagement at the Staatstheater in Hannover; numerous roles in television and films. Freelance actress. Lives in Hamburg. Plans to study natural sciences.



---
The DZH website is a joint effort by ReindeR Rustema, Alan Andres and many others. Back to the main page.