Eberhard Zielke
Former propaganda officer with the Nazis. Learned his craft at UFA studios. Now, after the war, he is employed by Konsul Handshuh as ISARFILM's staff director. His career has not gone the way he had planned it during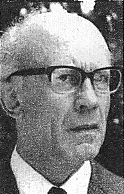 Born September 10, 1932 in Klaipeda (Memel). Comes from a family of craftsmen. Schooling in Bad Segeberg. Acting lessons with Horst Frank and Richard Münch and seminar at Hamburger Kammerspiele - Ida Ehre. Various film roles with directors like Egon Monk, Eberhard Fechner and Wolfgang Staudte. Currently: engagement at Bayerisches Staatstheater until 1993.

Plans: "to write a few songs again and get the most out of my remaining years."




---
The DZH website is a joint effort by ReindeR Rustema, Alan Andres and many others. Back to the main page.