17-24 April 2004. Radio Times mentioned Die Heimat in an article celebrating 40 years of BBC2. It selected 40 people and programmes from 40 years of BBC2 of which Heimat was the sixth.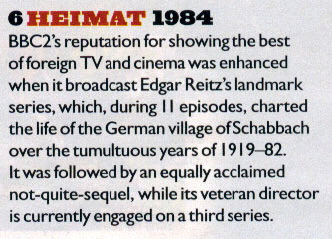 The OBSERVER of Sunday 18 April 1993:

"Years ago, when asked by a magazine to nominate the best television programme of all time, I replied without hesitation: HEIMAT. Edgar Reitz's re-creation of 60 years in a small German village had moved and involved me more than anything else I'd ever seen. This was partly because of the way it resonated with my own rural childhood (who was it who said that all cities are different but all villages are the same?) [Barry's note: Me too -- I come from rural Sussex, and I felt just the same.] Its power mainly stemmed, however, from Reitz's ability to create characters who, like those of Dickens, invaded one's consciousness and resided there from week to week.

Everybody knew that Reitz was working on a sequel, but most assumed that it wasn't feasible to call down that kind of lightning twice. Having just watched the opening episode of THE SECOND HEIMAT (BBC2), I suspect we were wrong. The first series was essentially about family. The second is about the freedom children seek when they flee the nest. Both are about memory. "Remembering is a creative act", said Reitz on ARENA (BBC2). "Our past is a pile of broken pieces. When we remember, we take those little mosaic pieces and build a new life with them. When we write down our memories or make a film about them, we snatch a bit of life away from death and put it on a level where it can exist longer. In that there's a kind of love."

HEIMAT 2 opens with young Hermann Simon leaving Schabbach to study composition at university, vowing never to return. The 13 episodes in the second series are centred on the circle of young intellectuals with whom he seeks freedom and fulfilment in 1960s Munich. The opening episode had all the Reitz trademarks: a slow, unhurried, yet compulsive narrative thrust; a willingness to take complex ideas seriously; a way with dialogue that leaves one gasping; and a terrific inventiveness with images. The result is the most memorable evocation I've seen of the overpowering, liberating effect which going to university has on some young minds. THE SECOND HEIMAT reminds its viewers of what it was once like to have the world as your oyster."

This is a review by Thomas Sutcliffe, which appeared in the
"Independent" on April 19, 1993:

"DOWN GEDACHTNIS LANE (untranslatable English joke!)

The opening sequence of The Second Heimat (Sat, BBC2) shows you dusk falling over Munich, speeded up so that the light drains from the sky and the windows of the city brighten in the darkness. Across the black, the lights of planes skim like tracer. I take this brief prelude of acceleration as the director's little joke, because one of the principal features of what follows is a leisurely refusal of compression quite uncharacteristic of television. Film editing means that surreptitious economies are available in even the most directly observed scenes -- reverse the angle here and snip a couple of seconds, cut from the knock on the door to your character sitting down and sipping his tea and you gain a couple of minutes. We don't notice the excisions because we are used to the fact that television always travels by short cuts.

Edgar Reitz is forced to use the same devices, of course, but you sometimes get the feeling that at night he dreams of the perfect film - one in which the depiction of a life would last a lifetime. It needs to be said that this isn't a complaint because, as that phrase shows, the language of criticism is prejudiced against duration. But though The Second Heimat
requires endurance of its viewers (the first episode lasted an hour and 55 minutes and there are 12 more of similar length), it repays it with an extraordinary depth of detail and feeling. I have watched 30-minute
sitcoms that felt ten times as long.

This series -- subtitled "A New Generation" -- follows Maria Simon's son Hermann from the rural town of Schabbach (the focus of Reitz's first film) to Munich, where he enrols at music school. He has left because his first love affair has been broken up by his mother and before he leaves he swears -- in a scene shot through with the expressionism of adolescent emotion -- never to love again, never to return, and to dedicate himself to music. His arrival in the city is that of a fairy-tale; he is a young man gilded with luck. He finds lodgings in the home of a Hungarian music-lover, is given a bed by a calf-eyed girl, and helped to pass a crucial aural test by a conveniently placed piano lid.

It can't have been that easy, you think, before you realise that the film isn't so much a recollection of *events* as a recollection of *feelings*. Sections of the film are charged with Hermann's emotions, his doubt and excitement, particularly, in this first episode, his mildly callow exhilaration at his own cleverness. In very short order we encounter arguments about predestination, the heroic theories of history, avant garde art, a brief masterclass on Webern's Three Pieces, and the first shock of the Nouvelle Vague. (It is not what Hollywood understands by an adolescent storyline [!].) At another point, after a period of relatively calm narration, we vault across the university canteen tables in a great swoop, ending on a mad percussion suite played out by the students with utensils and water-jugs. It is as if the sudden skittish exuberance of a young man has been released -- or as if the camera has forgotten its age."

a short one from the same paper in July 1993, when
the series had just finished: the critic is John Naughton:

"HOME IS WHERE THE ART IS (another pun, I'm afraid)

For the past 13 weeks, upwards of a million British viewers have been somewhere else on saturday nights. They have been watching Edgar Reitz's "The Second Heimat: A New Generation" (BBC2), a monumental, 26-hour film about the lives, loves and hopes of a group of young Germans who went to university in Munich in 1960. Few who stayed the course of this remarkable marathon will have been unmoved, or unchanged, by it, for although it appeared at first to be very specific in its focus, Reitz's epic dealt in the universal currency of human experience.

At its very heart were two young musicians, Hermann Simon (Henry Arnold) and Clarissa Lichtblau (Salme Kammer), whose unfulfilled love affair is the central tragedy of the story. Hermann was the link with the original "Heimat", for he was the Hunsrucker who vowed to escape his rural background and live by his musical wits. Around him and Clarissa were a group of artists and musicians linked by shared experiences and similar fortunes.

"The Second Heimat" was structured as a set of episodes, each focusing on an individual but taking the story of the group steadily forward through a turbulent decade. It closed in 1970 with the police hunt for Helga Aufschrey (Noemi Steuer), who has become a member of the Baader-Meinhof gang, and with the final failure of Hermann and Clarissa to commit themselves to one another. In the end, Hermann returns to Schabbach -- home to his *Heimat*, you might say.

As a cumulative experience, Reitz's series was stunning. As in the
original series, the characterisation was outstanding: the characters
lived and breathed and stayed in the viewer's mind as if they were family, workmates or neighbours. And Reitz's leisurely narrative style -- which when tried by other directors makes you reach for the fast forward button -- gripped the viewer.

"The Second Heimat" opened with Hermann and his friends teetering between adolescence and adulthood. It took them through the process of discovering whether they were to be successes or failures and on to the point where they learnt whether they could live with the outcome. And it demonstrated the truth of Cyril Connolly's despairing gibe -- that the first enemy of promise is "the pram in the hall".

It showed, in unforgettable ways, how life-chances and outcomes are shaped by childhood experiences. When Helga metamorphosed into a ranting terrorist we were not surprised, because we knew her as the child of joyless parents obsessed with respectability, position and social control. Hermann and Clarissa's inability to forge a lasting relationship owed something to the fact that neither grew up with a father. And Hermann's eventual doubts about his own talent had their roots in his family's incomprehension of art.

"The Second Heimat" was terrific at evoking the capriciousness of fate.
Reitz has a unique gift for introducing tragedy into the most placid of scenes. The sequence in the fourth episode, for example, in which Ansgar Herzsprung (Michael Seyfried) got his foot caught in the door of a tram and was dragged screaming to his death was as terrible as anything in Hitchcock or Peckinpah. At the other extreme, the moment in the tenth episode in which Reinhard Dorr (Laszlo I. Kish) suddenly disappeared from a gently-rocking boat, was chilling. It reminded you of Auden's "Musee des Beaux Arts":

About suffering they were never wrong
The Old Masters; how well they understood
Its human position; how it takes place
While someone else is eating or opening a window or just
walking along.



This comes, believe it or not, from the FINANCIAL TIMES in early April 1993. We don't actually *buy* the FT, you understand, my wife sees it at work :-) It's actually very good on the arts (so it's a good paper if you avoid all the financial crap. . .)

Anyway, this is by one Victor Price:

"SON OF 'HEIMAT'

So the admirable Maria has died at last, and all Schabbach has turned out to see her off. Eccentric Glasisch has chosen this moment to slip away himself. By five past one this morning Edgar Reitz's 15-hour epic had drawn to a close on BBC2. But HEIMAT is dead, long live HEIMAT. Because for the past eight years Reitz has been working on a sequel, which the same channel will be showing in weekly episodes, starting on April 17. Fifteen other countries will be running the film as well.

THE SECOND HEIMAT, which was premiered at the Venice Biennale and also shown at last autumn's London Film Festival, takes us back in time to 1960, when Maria's favourite son Hermann leaves the village to study music at the Munich Conservatory. We already know from HEIMAT 1 that he becomes a well-known composer. HEIMAT 2 shows us precisely how that comes about.

But, like the first epic, it is more than the story of just one man. It is the portrait of a whole society, the artistic and bohemian world of the Bavarian capital in the 1960s, and its 13 episodes have a total running time of over 25 hours, the longest film ever made. Each of the episodes tells the story of one of the young artists, students and rebels whose lives intersect with Hermann's during the decade in question. Reitz calls them the fatherless generation, because their fathers were either killed in the war or compromised by the Nazi past.

They comprise avant-garde composers, young film-makers, a lonely and slightly ridiculous philosopher, a poetess turned Baader-Meinhoff terrorist, a refugee from the DDR and many others. They experience the building of the Berlin Wall and the assassination of President Kennedy. They experiment with art, drugs and sex. They live in communes. They get involved in demos. They do not quite know what they want or where they are going. Some succeed, some fail.

The thread which holds them loosely together is the career of Hermann, Reitz's alter ego. And Hermann's destiny is in its turn determined by his love for the fiercely independent Clarissa, who is wedded to her cello. Both make unsuccessful marriages before coming together briefly in the final enigmatic episode, before Hermann withdraws to his native Schabbach, to wait.

On April 12, BBC2's ARENA will be curtain-raising HEIMAT 2 with a documentary EDGAR REITZ: RETURN TO HEIMAT, which tells how the second epic was made. Reitz emerges as a man of endless charm and patience who is nevertheless uncompromisingly dedicated to his work. To make such a sequence of films one needs phenomenal stamina: to finance them, one needs both a genius for negotiation and a complete faith in what one is doing.

THE SECOND HEIMAT is, like its predecessor, freely-handled autobiography. Reitz uses episodes from his own experience not as an ego-trip but to build up a valid story. As he creates, the present flows into the past; the telling of Hermann's love for Clarissa, for instance, has certainly been influenced by Reitz's own developing relationship with Salome Kammer, the actress who plays her. The films have been made in chronological sequence, which has allowed the actors to develop the characters over a span of time.
And four years of intense work together has given the team -- and the films they have made -- a rare sense of unity.

Technically HEIMAT 2 carries on where the first HEIMAT left off. It is discreetly original. For example, colour and black-and-white alternate here too; colour is generally used for night sequences and black-and white for day, but but not rigidly; it is more a question of the emotional feel of the scene. Pre-HEIMAT Reitz was an experimenter, and he can still invent brilliant shots, as when the camera races over a dozen canteen table-tops to home in on the young composers gleefully improvising a work for percussion with cutlery, glasses and the top of a radiator. But such things are used sparingly; true film, says Reitz, is not about the visible, but the invisible.

Reitz is a literate, not to say literary film-maker; HEIMAT 2 puts one in mind of certain German novels about artists' life in Munich, like Keller's GREEN HENRY or Hesse's PETER CAMENZIND. He is a conscious artist, not afraid to say that his object is to rescue something from death. As this sequence of films unfolds, in its leisurely, funny, sad and ironic way, it will become clear that he has achieved just that.

This is from The Observer from April 1993, and is written by Tony Catterall.


"Peering over the spectacles that perch low on his nose, Edgar Reitz leans across the table in the kitchen of his production firm's offices in Munich. 'I wanted to tell the stories in between', he says.

It was part of the answer to a question about why his phenomenally successful epos, HEIMAT, which looked at more than sixty years of German history from the viewpoint of a small village, contained so little of the Nazi barbarity. But it is also a key to DIE ZWEITE HEIMAT - 'THE SECOND HEIMAT' -- that begins its run of 13 two-hour slices on BBC2 this week.

The word, 'Heimat', is intensely German, one of those concepts that often do not adequately translate; 'home' or 'homeland' does not do justice to the almost mystical elements it can imply. After being perverted by the Nazis and then debased in the 1950s and 1960s by a whole row of kitsch rural-based 'Heimat' films, it took on an anti intellectual content -- until 1984, when Reitz startled Germany and the world with his 15 1/2 hour masterpiece that rehabilitated the word, and himself.

The original HEIMAT began in a fit of deep depression. Reitz says it grew out of an attempt to 'bring order into my life' after savage reviews destroyed the last 'normal' feature film he made, THE TAILOR OF ULM, in 1978. How, he asked himself, did an artisan's son from a small village in a backward part of the country become a film-maker? Why did he leave the village? Why did his father not?

The thoughts became writings, the writings became a film script. Reitz, now aged 60, is emphatic that although his work 'owes a lot to soap operas, the kind of series where once you've begun, you can't stop', it is 'a film and not a television series' about those who stayed. SECOND HEIMAT, which runs to almost 26 hours but covers only the 1960s, is about those who left. The 'second' refers not to a 'part II' but that that place where 'we try to build another life'.

Both are to a point autobiographical. 'The landscape where the action of HEIMAT takes place is the landscape in which I lived as the child,' Reitz says. 'The people who appear are inspired by people from my family, or people I got to know as a child or through stories that were told in my village. But I changed all these things considerably; there is much fiction in it. After seeing the film you can never go and seek those people or places. Even the village, Schabbach, does not exist -- it's fiction. Or, it's like a kaleidoscope -- put together from many elements.'

'SECOND HEIMAT' is somewhat less autobiographical. Hermann, the main figure, comes from HEIMAT and has certain elements, small aspects, of my own biography. Otherwise, the characters are almost all fiction.'

The characters, perhaps. But anyone who has read anything of Reitz's history will find constant parallels popping up in the lives of his characters. There is also something of SECOND HEIMAT in his life now; he lives with Salome Kammer, who as Clarissa Lichtblau was Hermann's great -- and until the end of the film unconsummated -- love.

The setting this time is a city: Munich. Reitz chose it because 'I know more about its history than of all other cities in the world. And I could describe the background to my story authentically.' It is, however and not coincidentally, also the city where he set out to build his second life, although almost a decade earlier.

During the 1960s, a crucial time for the modern German consciousness, Munich itself was 'a story in between'. The student revolts that began in 1967 and reached their high point a year later, as youthful intellectuals suddenly and violently began to question everything their parents' generation stood for, largely passed Munich by. To experience the full passion of the times, Hermann must go to West Berlin.

SECOND HEIMAT does not try to explain directly the phenomenon, just as HEIMAT did not deal directly with Nazism. That would make it more of a documentary, which 'is not my metier'.

Reitz is very consciously a storyteller. 'I don't want to analyse at all in my films. I want to tell stories instinctively, using a form of emotional and realistic story-telling that gives the viewers themselves the possibility to analyse. It's more important for me that viewers question their own lives than that they take the film as evidence. The purpose of my films is always to mobilise the viewers' own memories, so that they go back to the beginnings of their memories and question those memories.'

While SECOND HEIMAT is more 'romantic' -- and more 'Germanic' -- than its predecessor, its appeal is not restricted to Germans. With amazement in his voice, Reitz speaks of a 'phenomenon occurring in Italy at the moment'.
Italy is the only European country where SECOND HEIMAT is being shown not on television but in cinemas, each two-hour segment three times a day for a week, then moving on to the next. One large cinema in Rome is selling 17,000 tickets a week."